Tekna Talks is a learning platform for people in Quantum Computing & Artificial Intelligence.
Quantum Computing & Artificial Intelligence are two of the most innovative and potentially life changing fields today. What powers this is the people and they all have a story to tell.
Tekna Talks brings you uncut stories with some of the most amazing individuals inside these worlds to share their journeys, advice and greatest learnings so you can have something to take away and help you progress.
Whether you are starting your career or are an expert in the field, we aim to create an inclusive learning platform where you can gain valuable insights.
We look forward to you joining us on this experience and sharing these stories with you.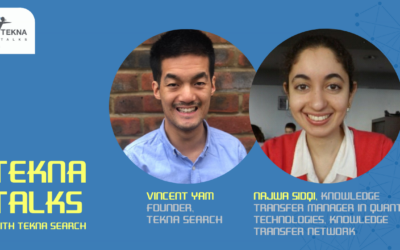 We sat down with Najwa Sidqi who is currently Knowledge Transfer Manager at Knowledge Transfer Network. Najwa started...
read more